Shanna Cahalane Honored By American Bankers Association With Inaugural Emerging Leader Award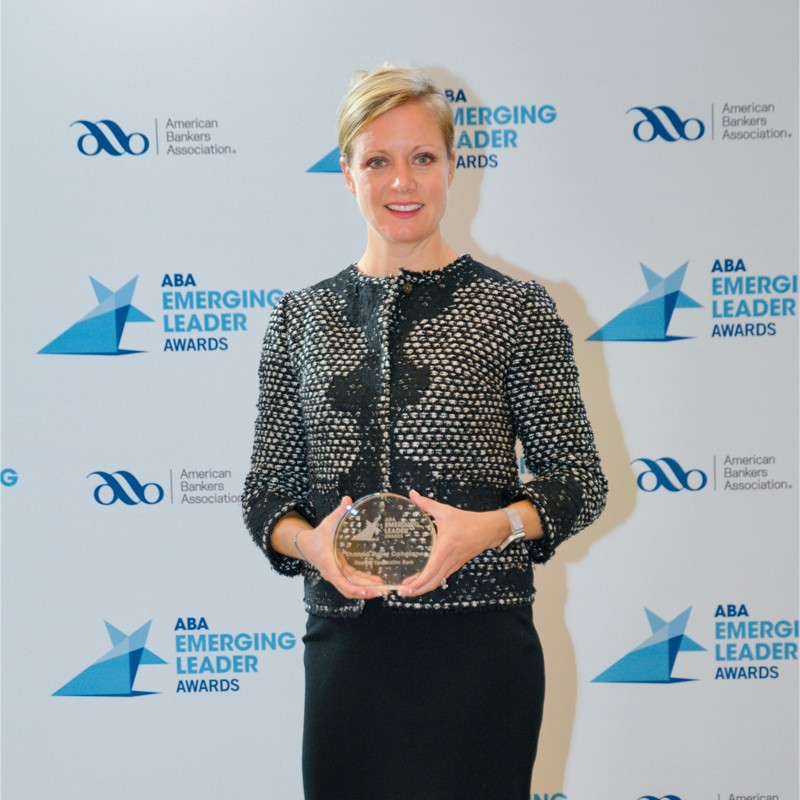 Reading Cooperative Bank's Shanna Cahalane, Senior Vice President, Director of Marketing & Community Development, was honored by the American Bankers Association as a recipient of its inaugural ABA Emerging Leader Award. This new award recognizes the next generation of bank leaders who are committed to the highest standards of achievement and service to both their industry and their local communities. Shanna and 10 other winners were recognized together during the ABA Annual Convention on Monday, October in 3rd in Austin, Texas.
"I am pleased, but not surprised that Shanna's leadership is being recognized by the ABA," said RCB President & CEO Julieann Thurlow. For the past 13 years, I've had the privilege of watching her grow into the banker she is today. Shanna has become an invaluable member of our bank's leadership team and has burnished our brand's focus on shared values and cooperative aspects that have made a significant impact on our customers and our organization."
The winners were selected by a diverse steering committee of industry professionals. The qualities and characteristics the committee evaluated as judging criteria included dedication to the profession, inventiveness, leadership skills, mentoring ability, personal integrity, tenure at the bank and broader commitment to a career in banking, sustained career progress, and academic training including advanced degrees and certificates/certifications.
"We congratulate these high performers who have already begun to have a significant impact on our industry," said Rob Nichols, ABA president and CEO. "These ABA Emerging Leader Award recipients have demonstrated a range of banking skills, a commitment to conduct their work with integrity and a strong desire to help their customers and communities flourish. The future of our industry is bright because of leaders like these."
Learn more about Shanna Cahalane and each member of the ABA's Class of 2022.
About Reading Cooperative Bank:
Reading Cooperative Bank is a depositor owned co-operative founded in 1886. This community-centric North Shore financial service provider has branches in Andover, Burlington, Lynn, Nahant, North Reading, Reading, and Wilmington. They also operate teaching branches at Northeast Metro Tech in Wakefield (open to the public) and at Reading Memorial High School (students and staff only), as well as an online branch at www.readingcoop.com
Member FDIC | Member DIF | Equal Housing Lender