RCB's Rich Vecchione Elected to the RCTV Board of Directors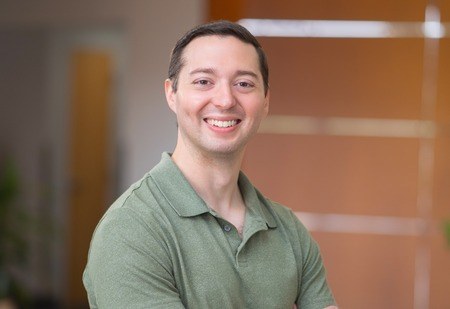 Reading Cooperative Bank's (RCB) Rich Vecchione, Digital Marketing Specialist, has been tapped to join Reading Community Television Station's (RCTV) Board of Directors. Rich has been with RCB for nearly five years and is deeply engaged in community outreach efforts spearheaded by the bank's Marketing Department.
Rich has been eager to take on more of a leadership role locally. When a former RCTV Board Member stepped down, Rich seized the opportunity to fill the seat and gain the experience he had been seeking.
"I was more than happy to lend my voice to an organization I had been a member of since the beginning of my tenure at RCB," Rich commented. "When Crystal Hodson, an old colleague of mine, called me up to gauge my interest, I knew I couldn't say 'no'."
Rich began his journey producing video content for the Danvers High School (DHS) TV Production Club. He was fortunate to work under the tutelage of James Lombard, a former faculty member who helped nurture the existing program at DHS.
As an upperclassman, Rich volunteered at Cablevision, the Danvers local access station. Following high school, he went on to study communications and graduate with a degree in Visual/Media Arts from Emerson College.
"To me, videography and editing were always therapeutic," Rich explained. "I love the visual medium as a form of expression and am grateful that DHS made space for the program, giving me the chance to explore and refine my skills throughout my high school career."
Rich understands how important access and mentorship can be to up and coming artists.
"It's one of the reasons I feel an obligation to support what RCTV is doing," Rich continued. "They're so involved in the Reading school system, supplementing its video production coursework with the latest technology, hosting classes at their studio, and even inviting students to come and work for the station. They're an invaluable resource for the next generation of aspiring filmmakers, and I'm thrilled to be a part of that."
About Reading Cooperative Bank:
Reading Cooperative Bank is a depositor owned co-operative founded in 1886. This community-centric North Shore financial service provider has branches in Andover, Burlington, Lynn, Nahant, North Reading, Reading, and Wilmington. They also operate teaching branches at Northeast Metro Tech in Wakefield (open to the public) and at Reading Memorial High School (students and staff only), as well as an online branch at www.readingcoop.com.
Member FDIC | Member DIF | Equal Housing Lender